How former refugee Mohammad Shehadat empowers young refugees with skills for global change
"I am convinced more than ever that any society that does not succeed in tapping into the energy and creativity of its youth will be left behind." – Kofi Annan
Kofi Annan knew that young people are crucial to bringing about the change the world needs. As the world experiences multiple challenges, Mohammad Shehadat, a Kofi Annan Changemaker, is dedicated to uplifting young activists to ensure they are part of the solution. In honour of World Skills Day, 15 July 2023, we interview Mohammad to learn how and why he empowers youth for global change.
"Believing in and investing in the energy of youth is enough to transform the world and societies at various levels," Shehadat explains. "Everyone must recognize that youth are an essential part of the solution. There is no future without them and their brave contributions."
In 2012, the conflict forced Mohammad to flee his hometown of Syria to a refugee camp in Jordan. In 2020, Mohammad took a course on peacebuilding with Amala Education. Upon completing the course, Mohammad felt a distinct lack of understanding of the subject among young people, especially refugees. Determined to bridge that gap, Mohammad turned his attention to equipping young people with the necessary skills and training so they could become global citizens.
"Everyone must recognize that youth are an essential part of the solutions. There is no future without them and without their brave contributions."
Turning Challenges into Opportunities
Inspired to create a space for youth to talk, participate and act, Mohammad launched the "Youth for Peace" initiative to help other refugees resume their education and gain new skills.
Like many refugees, Mohammad has experienced a variety of obstacles and challenges. Despite this, Mohammad chooses to focus on the positives. "Difficulties are temporary," he explains, "and can be overcome with determination, persistence and learning." These values, which echo Kofi Annan's, are one of the reasons Mohammad was invited to become one of the twelve Kofi Annan Changemakers in 2022.
Recognizing that young people aspire to create change and positive impact, "Youth for Peace" provides reliable, free, and unlimited access to learning and skill enhancement opportunities through partnerships with individual partners and organizations.
One such partnership is with Jordan's Digital Opportunity Trust (DOT). DOT offers programmes for young people to provide them with tools, knowledge, and networks to launch sustainable social initiatives that create positive change.
Stories of Empowerment
Mohammad's passion for empowering young people to become global citizens has resulted in tangible change. To date, one hundred individuals have benefitted from the "Youth for Peace" initiative, and, as part of his Kofi Annan Changemaker seed grant project, Mohammad has plans to expand this reach to benefit 1,000 people.
Of the one hundred individuals who benefited from the initiative, seventy-nine are now actively designing or implementing their own community initiatives.
Discover two projects created by young people empowered by Youth for Peace:
Project: Mental Health Through Art
Led by: Nusaiba Talameh
Sustainable Development Goal: SDG 3 – Ensure healthy lives and promote well-being for all at all ages
Nusaiba Talahmeh, a Jordanian activist, believes that transforming relationships is the key to ending violence. Thanks to Youth for Peace, Talahmeh founded the "Mental Health Through Art" initiative to provide psychological and social support while raising awareness of social and psychological issues. Talahmeh creates safe spaces for expression to improve cultural and social communication, contributing to conflict resolution and utilizing technology for creative expression.
Project: Lens of Change
Led by: Mohammad Nour Al-Hariri
Sustainable Development Goal: SDG 10 – Reduce inequality within and between countries
Mohammad Nour Al-Hariri, a Syrian asylum seeker, sought to involve youth to put creative imprints on local and global issues. Thanks to Youth for Peace, Nour Al-Hariri started the "Lens of Change" project to empower young people through filmmaking, photography, montage, and graphic design. Through art, photos, and videos, Lens of Change sheds light on the environment, social justice, human rights, and education. By creatively documenting these issues, Nour Al-Hariri believes people will become more aware and curious, leading to the discovery of sustainable solutions.
Mohammad's Advice for Aspiring Activists and Leaders
Mohammad emphasizes that empowering youth is achievable regardless of position or available resources. He shares that "by enabling, guiding, communicating, advising, and promoting the ideas, behaviours, and values of global citizenship and peace, all individuals, especially young people, can contribute to transforming the world and society on various levels."
Mohammad's message, deeply rooted in the principles of Kofi Annan and the Kofi Annan Foundation, highlights the essential role of youth in driving positive change.
Mohammad Shehadat's story serves as an inspiring catalyst for youth empowerment and global change. His commitment to uplifting young activists perfectly aligns with the aim of World Skills Day.
Join us in celebrating entrepreneurial young activists like Mohammad this World Skills Day!
Learn more about the Kofi Annan Changemakers
In the following video clip, Mohammad shares what intergenerational solidarity means to him: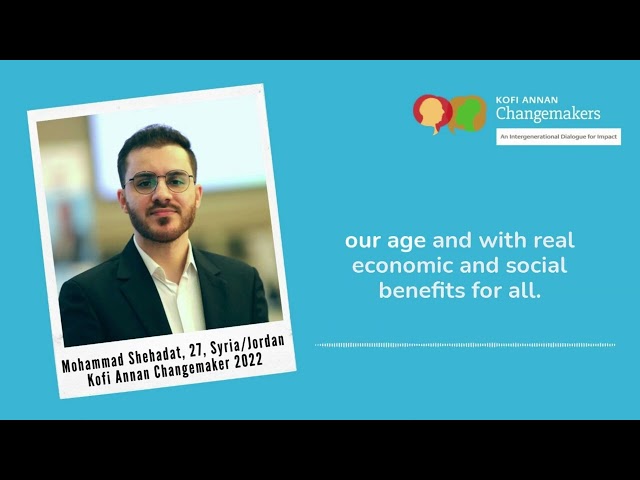 About World Youth Skills Day
World Youth Skills Day, celebrated annually on 15 July, holds immense importance, as declared by the United Nations General Assembly in 2014. This day serves as a powerful platform to recognize and emphasize the strategic value of equipping young people with essential skills for employment, decent work, and entrepreneurship. Through this global initiative, the UN aims to empower youth and provide them with the tools they need to thrive in a rapidly evolving world.