Ndugwa Hassan: A Journey of Resilience, Peace, and Advocacy
Our first story in the Journeys of Peacebuilding series is about resilience and advocacy, featuring Ndugwa Hassan, an Extremely Together Young Leader and Executive Director of the Uganda Muslim Youth Development Forum.
On July 11, 2010, Ndugwa Hassan and a friend gathered in Kampala, Uganda, to watch a FIFA World Cup Final screening between Holland and Spain. As football fans, there was no better way to watch the game than on a giant screen surrounded by friends and other fans. A few minutes before the final whistle, there was a large blast and then another. A bomb fragment hit Hassan, leaving a gaping wound on his left cheek. Covered in blood, he was rushed to the hospital, where he was luckily discharged the following day.
Others were not as lucky.
Watching the news at his parent's home the following day, Hassan learned that twin attacks had occurred in Kampala, killing at least 78 people and injuring hundreds more. The Somali Islamist movement Al-Shabaab claimed responsibility for the attacks.
"The headlines that morning read that Muslims had killed people, which I felt was a misrepresentation of the religion but also of Muslim youth, who were paraded as suspects and accomplices to this attack," Hassan explains. Angry and frustrated, the shocking event and media coverage that followed ignited Hassan's commitment to countering the misrepresentation of Islam and led to the establishment of the Uganda Muslim Youth Development Forum, of which Hassan is now Executive Director and co-founder.
Enhancing the Scope and Impact of Peacebuilding
In 2016, Hassan's dedication to peacebuilding was recognised by Kofi Annan and the Kofi Annan Foundation when he was selected to join a group of 12 young leaders from around the world to form the Kofi Annan Foundations' first global youth-led initiative to counter and prevent violent extremism, Extremely Together.
The role of Extremely Together Young Leader proved instrumental in enhancing the scope and impact of Hassan's work. "Being part of Extremely Together has taken my work to the global stage and increased our visibility."
Discover how young Ugandans engaged in the Extremely Together Uganda Chapter use dialogue, art and advocacy to bring youth priorities to the forefront and prevent violent extremism.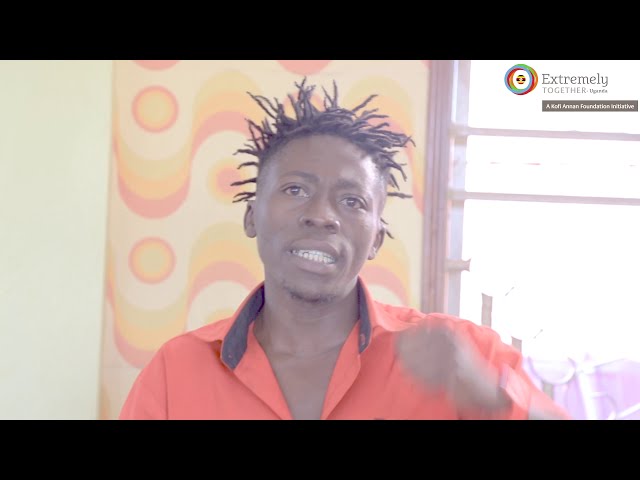 Over the years, Extremely Together has expanded to include the creation of local chapters, an accomplishment Hassan is particularly proud of. The Extremely Together chapter in Uganda stands as a potent example, creating a network of local peacebuilders, addressing local challenges to peace, and contributing to policy discussions. "The creation of the ET chapter in Uganda is outstanding for me," Hassan proclaims, "because through this chapter, I have created local networks of peacebuilders with whom we share local knowledge."
"Being part of Extremely Together has taken my work to the global stage and increased our visibility." – Ndugwa Hassan
Climate Change and Peacebuilding
The evolution of Hassan's peacebuilding strategies reflects his insight into the complexities of contemporary challenges. Climate change has posed a formidable challenge to peacebuilding efforts, exacerbating resource scarcity and stoking conflicts.
"Climate change effects have exacerbated the problem of violent extremism by affecting people's livelihood and making them more vulnerable to extremist narratives," Hassan explains, highlighting as an example the plight of fishermen communities around Lake Victoria, whose displacement due to climate change-induced rising water levels has heightened their vulnerability.
"Climate change effects have exacerbated the problem of violent extremism by affecting people's livelihood and making them more vulnerable to extremist narratives." – Ndugwa Hassan
The Kofi Annan Foundation: Expanding its Role
Reflecting on the Kofi Annan Foundations' ambitions to expand its role in peacebuilding and climate action, Hassan sees an opportunity for ET to carry out more work and reach a wider audience; "Extremely Together is now in a strong position, not only do we have us, the 12 Young Leaders, but we also have local chapters around the world. This enables us to reach more people, and different people, sustaining Kofi Annan's vision of creating a global network of peacebuilders."
During a virtual exchange in 2021, Extremely Together Uganda and Extremely Together Somalia came together to share their work in peacebuilding and preventing violent extremism.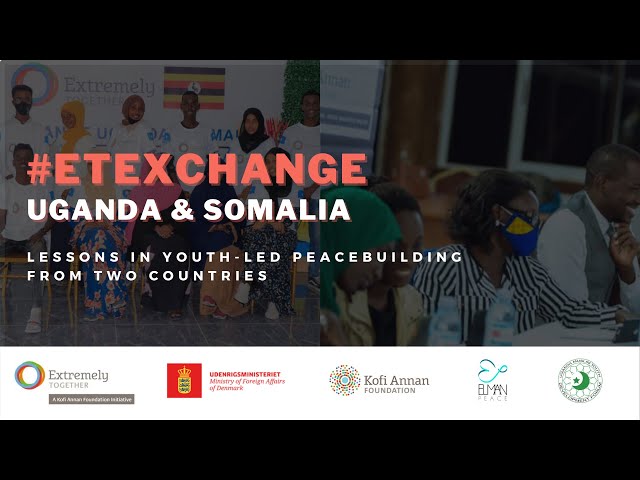 Peacebuilders and Peacebuilding Initiatives: A Critical Need
Recent upheavals in Uganda and violent attacks in schools underscore the dire need for peacebuilding initiatives. Projects and organisations spearheaded by individuals like Hassan are more crucial than ever to counter these turbulent times and foster a stable, peaceful society.
Hassan's journey is an inspiring reminder of the power of resilience, commitment, and transformative change.
Learn more about Extremely Together and our youth work in Uganda.
This is the first story in our "Journey of Peacebuilding" series, which explores what it means to be a "peacebuilder." Young leaders from our Extremely Together (ET) initiative share their stories and explain how they got involved in peacebuilding and how their journeys have evolved since joining ET in 2016. Discover inspiring stories of young peacebuilders working to counter and prevent violence in their communities and beyond!