How Fahd Jamaleddine is Spearheading Educational Transformation in Lebanon
In Lebanon, a growing network of 60 school principals across the country are part of a movement that not only aims to mobilize teachers, students and parents but to transform the education sector overall. Fahd Jamaleddine, a young leader and Kofi Annan Changemaker, is at its helm.
In late 2021, together with a group of Lebanese citizens, Fahd refused to sit back and accept the situation of disadvantaged school communities in Lebanon and, through the grassroots movement nafda, has created a space for education professionals to advance the education sector, simultaneously redefining literacy for the modern age.
"nafda (n): An Arabic term signifying a concerted effort towards regeneration, introduced by the innovative leaders of this movement."
Education in Lebanon: A sector in crisis
Since 2019, Lebanon has been facing multiple economic and political crises. The Covid-19 pandemic accelerated the collapse of all public services, with the education sector taking a significant hit, bringing it close to total collapse.
Yet even before these crises erupted, the Lebanese educational system was lagging. The National Curriculum has remained untouched for over 20 years, and as of 2018, Lebanese students exhibited one of the lowest literacy and numeracy rates compared to their Middle Eastern peers (OECD, 2018). Furthermore, a shocking report in 2021 revealed that an average of 10.2 years of schooling in Lebanon resulted in just 6.3 years of effective learning (World Bank, 2021).
Advocating for a fresh education system
While the circumstances may appear discouraging, nafda was born out of the urgency to make a positive difference. The team behind nafda are eight Lebanese young leaders who understand the collective responsibility to advocate for a fresh education system that aligns with the educational requirements of the young Lebanese generation.
Co-founded by Fahd, who serves as the Head of School Transformation, nafda is expanding what literacy means to include digital proficiency, civic awareness and life skills – essentials for today's world and sustainable, peaceful societies.
Nafda employs a dual focus in its operations. Firstly, their work focuses on helping schools design and implement transformational projects that help students advance as 21st-century learners. Their projects are rooted in the three core values of engaged citizenship, good governance and social justice. Secondly, nafda is working diligently to build a robust network of school principals and teachers who support each other throughout the journey and build a movement toward change in the education sector.
Discover more about nafda in this video.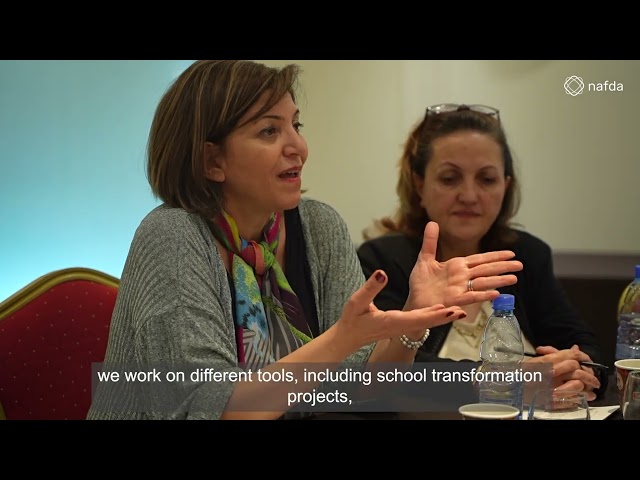 Literacy for today's world: Going beyond reading and writing
Understanding the needs of a modern, transitioning world, nafda goes beyond the traditional definition of literacy, which has put the main focus on reading and writing skills.
Several of nafda's partner schools are fostering "design thinking," pushing for web development, coding and 3D printing as literacy essentials. Furthermore, nafda encourages problem-solving and social entrepreneurship skills while focusing on community engagement and business management, enriching students' understanding of their societal roles.
One example is Saint Elie School of the Carmelite Fathers in Tripoli, North Lebanon, which shifted from traditional methods to digitized curricula, initially focusing on Grade 6 for mathematics. The impact has been profound—more than 95% of students displayed a newfound interest in math, and 70% improved their grades in just three months.
Another transformative project involved Themarona Special Needs School, located in Mount Lebanon, for students with learning difficulties. The school fostered an inclusive environment by focusing on life skills development, such as financial management and emotional regulation. This instilled confidence and independence and ensured the project's sustainability with devices and training for teachers' digital skills.
Gamification in Education
Nafda is also developing an educational game to foster citizenship, good governance, and social justice. The game challenges students with thought-provoking questions, problem-solving exercises, and morally complex scenarios tailored to Lebanese culture and societal issues.
This interactive learning tool provokes thought and stimulates healthy dialogues, preparing students to think critically and engage actively in their communities.
International Literacy Day 2023
Kofi Annan once said, "Literacy is a bridge from misery to hope. It is a tool for daily life in modern society." These words hold special meaning today as we celebrate International Literacy Day 2023.
To promote literacy as a cornerstone for peace and sustainability, individuals can learn much from nafda's approach. Their model prioritizes grassroots reform, harnessing local agency and school ownership. This strategy enables education to be customized to suit different communities' unique cultures and contexts.
Join us in acknowledging efforts like nafda that are pushing the boundaries of conventional education and equipping the next generation with literary skills for today's world.
Learn more about nafda via their website, Facebook, X and Instagram channels.